Interview with Manon Labrosse:
Manon Labrosse's new series "THAW" currently on exhibiiton at the Council For The Arts (2 Daly Ave, Ottawa) is a thing of wistful beauty. The paintings, (oil & graphite on wood panel) illustrate Labrosse's keen sense of design and although reminiscent of previous work, have evolved into a harmonious, calming collection of dripping jewel tones used to describe the imminent spring thaw.
Logs float and dangle like weightless toggles suspended amid the clouds. Like a mobile they sometimes spin apart and then re-gain balance. It is the melting landscape in this case that provides the weight to the paintings. As if tectonic plates, the puzzle pieces shift and come together to form masses in a dreamy , imaginative landscape.
CB: When did your imagery or use of logs begin appearing in your work?
ML: I started using the image of the log in my landscapes a few years ago when I did the Tree Farm series that was exhibited at St-Laurent + Hill. This series indirectly referenced my moving from Northern Ontario, by addressing our family farm being sold for clear cutting. Although the property was already mostly forested, my dad also grew new trees which were a passion of his. I'm told they ended up leaving some of the new trees, but we have these photographs of the farm covered in log piles and surrounded by this gray fog. It had a very desolate feeling, kind of a sad ending to 30 years of hard work.
The Thaw series evolved from that, but I decided to distance myself from this subject matter. I didn't' want this work to be so personal and really wanted to concentrate on the composition and technique. Color was a huge challenge for me and it was refreshing to discover paint again! It was basically painting for the sake of painting, total detachment from subject matter.
CB: How has the significance of "the log" changed, i.e.: the weight of it or the iconography or the use of it as an object… has it become a personal stamp?
ML:The logs came back because I always like using a shape repetitively throughout a series. I suppose it does become a personal stamp, but it's mostly because I like to create a pattern. We see shapes/symbols everywhere that often remind us of these random events in our lives and I find that really interesting, being a terribly nostalgic person myself. For example, two of my paintings refer to a "teepee". This is actually associated to a memory I have of building this teepee from fallen trees in the woods down the road from our cottage up North. It was an awesome teepee, but it was far enough from the cottage that I was actually too scared to spend any time in it. I then remember going back when I was a teen and it was still there, but barely standing, and it still scared me. This memory wasn't intentional but came to me when I was trying to think of titles for my work.
CB: Does our Canadian landscape influence your choice or colours/palette?
ML: It does and it doesn't. When I did the Power Line series I truly did use colors I saw in the landscape up North, very dark, sometimes desolate and intimidating. In this series, I thought of spring, of how when the snow melts everything kind of blends into each other. My plan was to reference the colors we find in our surroundings, not just the natural elements, but also the man made things we leave behind before the snow fall that later get revealed when the snow melts. But in the end, I think I just started enjoying the color so much, I lost track of that plan and really just played with them and stuck to what worked for me.
CB: Do you find your work follows the seasons?
ML: It used to, and then I realized I was painting snow landscapes in the summer, which is a bad idea by the way since nobody wants to be reminded of winter. Now that my palette has so much color I don't worry too much about what season it looks like. I think most of all I associate this series with spring because spring is a time for renewal, for starting over. It's a very positive time for me so that's probably why I wanted to work with color.
CB: I know you did some traveling this past year, were there landscapes or images that connected with your artistic sensibility? Will these show up in future works?
ML: Yes, I did a roadtrip along the PCH (Pacific Coast Highway) in California. We started in South California; a town called Temecula and then drove north towards San Francisco. It's in South California that I fell in love with the landscape. This might sound weird from someone from Up North where trees are always lining the landscape, but I loved the flawless desert landscape and how simple linear shapes like the telephone poles and the power-lines stood out like they were drawn on with a pencil. I actually considered maybe going back to the telephone pole, but obviously from a completely different perspective. I took so many pictures and am planning a series that will be inspired by them.
Look for more of Manon's work in an upcoming exhibition at l'Espace Odyssée in Gatineau where she will be creating an installation with video and a collection of very large format paintings in the same style as "An Aerial View of Snow Melting" .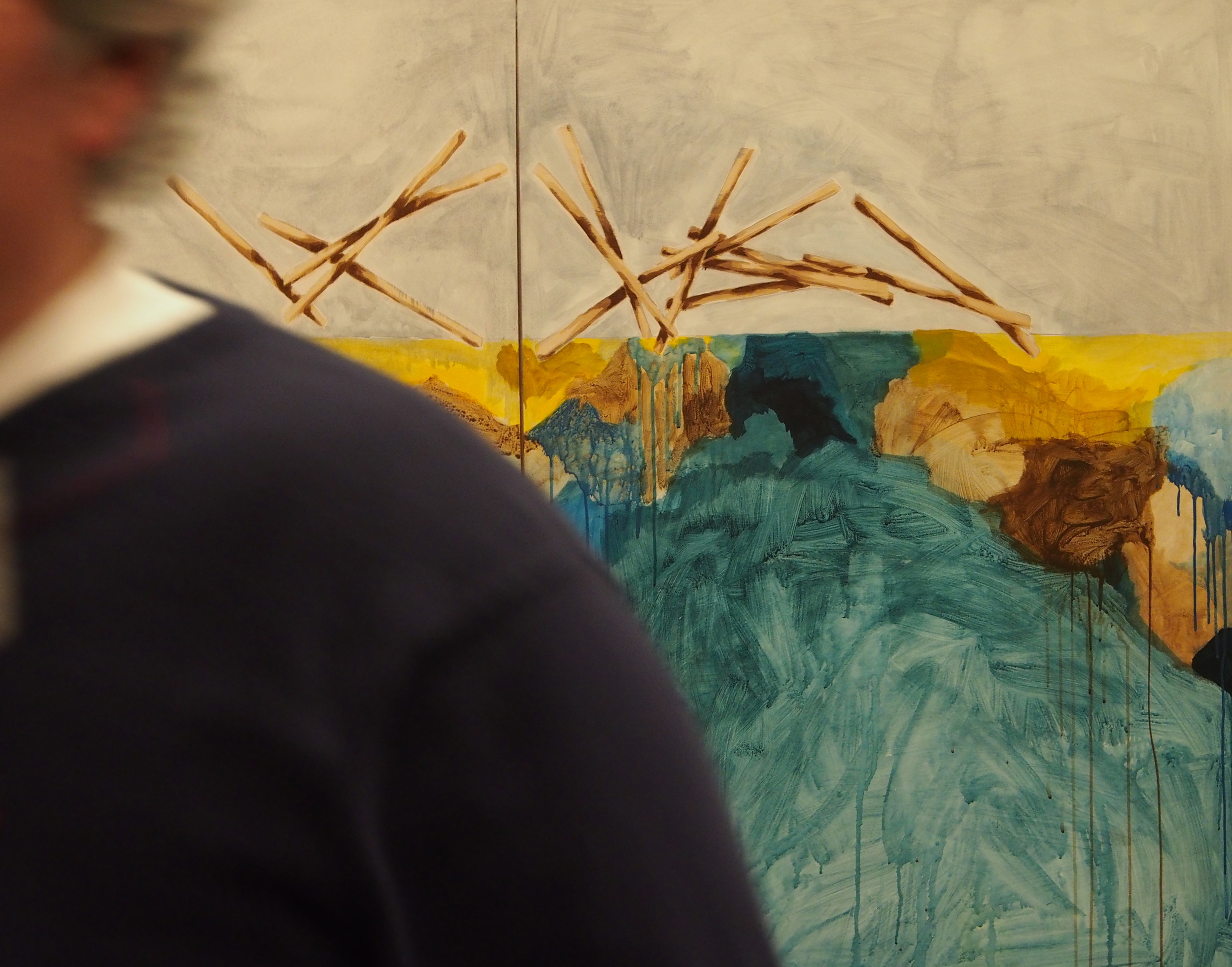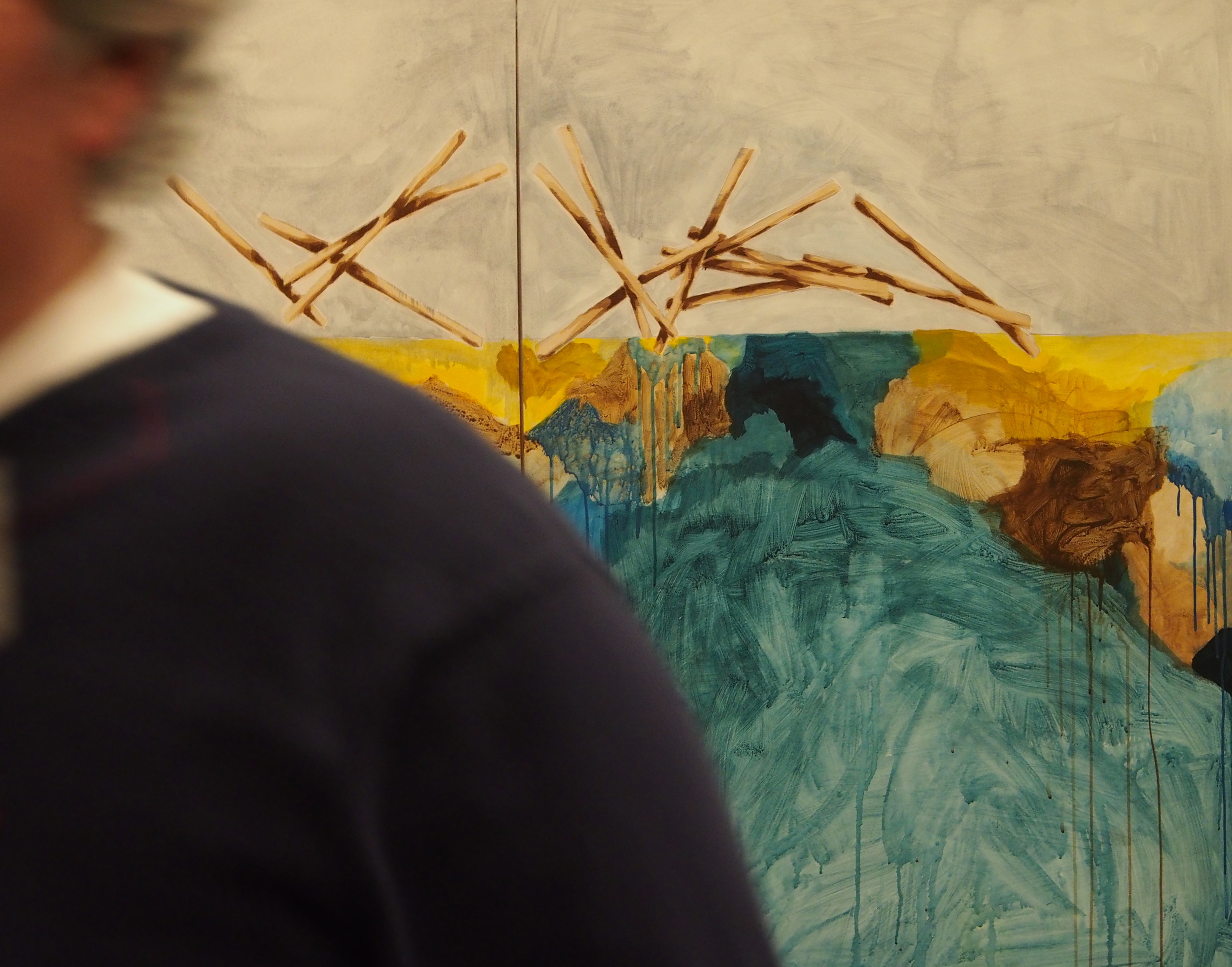 Thaw/Dégel runs from January 31st to February 28, 2014, in the Salle Micaela Fitch Room, 2 Daly Avenue, Ottawa
Gallery hours are from 10 am to 5 pm, Monday to Friday or by appointment.
Visit the artists website at www.manon-labrosse.com
Paintings © Manon Labrosse
Interview and photography © Crystal Beshara